Ice Melt Comparisons: How To Choose The Best
No two products are the same and nor are their compositions. From blends of two or more ice melts to single-ingredient ice melt, you need a handy ice melt comparison chart to help you choose the best. Knowing your ice melt will always help you make the right choice to keep your driveways, pathways, sidewalks, office premises, and thruways safe and clear during winters. Whether it is a safe step ice melt reviews or any other product review, it is best to understand them in advance.
Before we answer this, let us quickly examine does kosher salt melt ice or not?
Kosher salt or rock salt or cooking salt is a home remedy many people use to melt the ice around their home and sometimes even in front of their office premises. It is not an ice melt. It causes the ice to destabilize and become slush or brine, thus hindering the growth of plants. It is one of the most corrosive ingredients available because of its porosity to absorb all moisture from around. Prolonged usage causes cracks in concrete and does not allow the plants to thrive.
Eco Friendly Ice Melt
Safe Paw
The Original and the #1 Pet and Child Safe Ice Melt for over 20 years. Guaranteed environmentally safe – will not harm waterways and sensitive wetlands.
Some Popular Ice Melt Comparisons Include-
Green Gobbler- 96% calcium chloride snow and ice melt pellets; Green Gobbler works on -40 degrees Fahrenheit by lowering the re-freezing temperatures. It is not entirely safe for plants and concrete.
(Calcium chloride is also available in the liquid form and many commercial premises spread it before the onset of a snowstorm.)
Mountain Organic Natural Ice melter- It is effective up to -23 degrees C or -9 degrees F and comprises potassium chloride and trace elements of minerals and irons. A granular ice melt is a relatively better alternative to kosher salt as it does not entirely harm the vegetation nor leaves any residue after use.
Safe Step Ice Melt- It comes in different varieties and compositions and lowers the freezing point anywhere between -25 degrees F to 5 degrees F. The unique aspect of safe step ice melt reviews consists of different sub-products: enviro-blend, halite, dual blend, magnesium chloride, and calcium chloride. Each of these sub-products is suitable for other premises and requirements. It may or may not be entirely safe for pets and plants; however, it is best to check for more online reviews and take suggestions from your immediate neighbours, family, and friends.
You can use it for all premises and materials such as concrete driveways, pathways, pavements, patios, stairs, roofs, etc.
You can use it for all types of premises and materials such as concrete driveways, pathways, pavements, patios, stairs, roofs, etc.
Get ready for winter with the ONLY Pet Safe Ice Melt you can trust
Safe Paw- Another enviro-friendly ice melt, Safe Paw comprises Carbonyl diamide and glycol admixture with a dual-patented compound that helps to break the surface tension immediately and melts ice quickly. It works at sub-zero temperatures as well and acts as an ice melt plus provides surface traction.
Get ready for winter with the ONLY Pet Safe Ice Melt you can trust
Conclusion
Besides the ones mentioned above, you can choose from Triple Melt, Infernal Melt, Roadrunner ice melt, Arctic Orange and Arctic Blue, etc., depending on the climate and temperature. The best way to choose your ice melt is to follow basic parameters- environment-friendliness, pet-safe, concrete-safe, price, and usage. It is good to have options, especially if you know it will help you make the right choice.
Get ready for winter with the ONLY Pet Safe Ice Melt you can trust
Other Ice Melt Products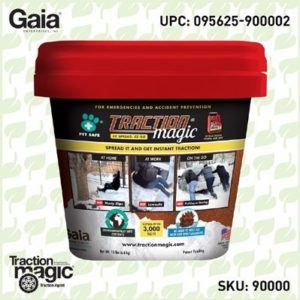 Traction Magic
Stay safe on slippery surfaces with a product that's 100% natural and safe for pets, people, and your property. Use Traction Magic on sidewalks, steps, or as instant traction for your car. Traction Magic provides instant traction on all icy surfaces.
Safe Thaw
Imagine an ice melt you can put down and never worry about. It won't harm animals or children, and it won't damage your property. That's Safe Thaw. Unlike anything else on the market, Safe Thaw can change how winter affects our planet.