Ice Melt And Its Impact On Your Lawn
Every winter, we all look for an ice melt that is safe for grass. Apart from different snow removal tools, you also need a good ice melt product that will help you wade through the season without hassle. Another thing you look for in an ice melt is that it is safe for your pets and concrete as well.
What Is A Safe Ice Melt?
Ice melt comprises a blend of salts and chlorides in different quantities. Therefore, an ice melt that does not contain too much salt and has a balanced chloride content is considered a better alternative. And if you have a product such as a Safe Paw that is 100% natural, nothing like it. Many people refer to it as Safe Paw Salt, but we would like to clarify that Safe Paw does not contain salt or chlorides.
Before choosing an ice melt that is safe for grass, keep in mind the impact it may have on your lawn.
Ice melt is not safe for plant life in general. Before the first snow settles in, fertilize the soil to give your lawn essential nutrients to feed the plant roots through winters. Safe paw deicer gives you just this and much more.
Ice Melt Safe For Grass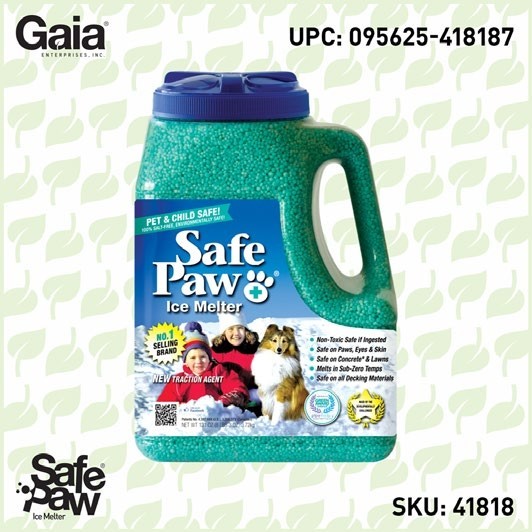 Safe Paw
The Original and the #1 Pet and Child Safe Ice Melt for over 20 years. Guaranteed environmentally safe – will not harm waterways and sensitive wetlands.
While concentrating on our grass or landscape, we forget that the ice melt will have an equal impact on your turf as well. Leaving the ice melt for too long, ignoring to clear it after the ice melts, or overuse of products will damage turf. So even while we choose an ice melt that is grass safe, we have to ensure that your turf and concrete remain safe.
If you are using a deicer regularly, it is advisable to be quick on your feet to remove the ice melt that is accidentally or consciously applied over the lawn or grass. The quicker you remove it, the better it is for the grass as the composition does not seep inside.
One of the most significant contributing factors of an ice melt is the composition of salts and chlorides. Many people use magnesium chloride ice melt and wonder, 'is magnesium chloride safe for pets?' The answer is No. They are considered safe to use compared to only rock salt or sodium chloride. However, you have to be judicious the way you apply it as overuse will damage your vegetation and your concrete.
Get ready for winter with the ONLY Pet Safe Ice Melt you can trust
Conclusion
An ice melt that is safe for grass is available in the market, and one of the best products in this category is Safe Paw. An all-natural ice melt and traction agent comprises modified carbonyl diamide crystals with a blue liquid core and special glycols that help clear the excess snow, do not cause brine or slush and do not harm the environment.
Get ready for winter with the ONLY Pet Safe Ice Melt you can trust
Other Ice Melt Products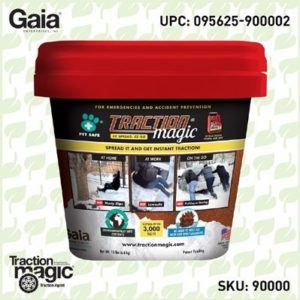 Traction Magic
Stay safe on slippery surfaces with a product that's 100% natural and safe for pets, people, and your property. Use Traction Magic on sidewalks, steps, or as instant traction for your car. Traction Magic provides instant traction on all icy surfaces.
Safe Thaw
Imagine an ice melt you can put down and never worry about. It won't harm animals or children, and it won't damage your property. That's Safe Thaw. Unlike anything else on the market, Safe Thaw can change how winter affects our planet.