How To Remove Snow In Your Yard?
The buildup of a lot of wet, heavy snow and ice might damage your garden plants at times. Moreover, using the salt-based ice melt on grass can kill the foliage while damaging your premises.
You are most likely aware that rock salt can harm your landscape. Rock salt (sodium chloride), potassium chloride, magnesium chloride, calcium chloride, and urea are the most commonly used ice melting products. Out of all these, chlorides are the most harmful ingredients for plants, pets, and even your concrete.
Effects Of Chloride Ice Melt On Grass
A variety of ice melt factors are responsible for the lawn damage. First, salt-based ice melt treatments deplete moisture from the soil, preventing it from reaching the grassroots. As a result, the grass plants wilt and die due to dehydration. Furthermore, ice melt particles can leech moisture from the grass blade, causing it to discolor and wither.
Second, ice melt, including salt, contains toxins. As the salt is dissolved in water, the harmful ingredients are released when it separates into elemental ions.
Get ready for winter with the ONLY Pet Safe Ice Melt you can trust
Safe Ice Melting Product For Your Yard
You might use an eco-friendly ice melt, such as Safe Paw, widely accessible on the market. It is environmentally friendly and one of the safest ice melt for pets and plants. This natural urea-based ice melt will not harm your greenery; on the contrary, it will aid in their growth during the harsh winter months. Safe Paw is one of the most trusted ice melts and has no known adverse effects. 
Eco Friendly Ice Melt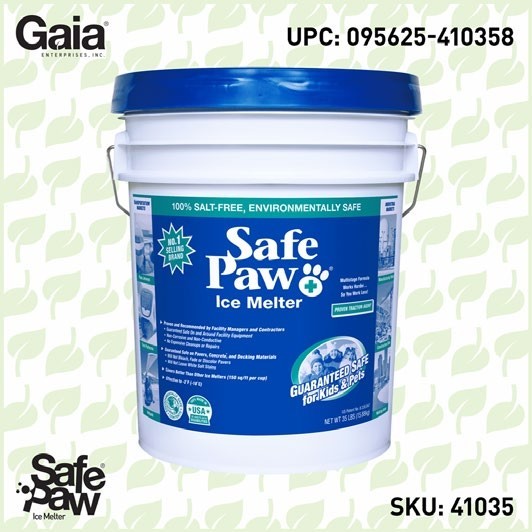 Safe Paw
The Original and the #1 Pet and Child Safe Ice Melt for over 20 years. Guaranteed environmentally safe – will not harm waterways and sensitive wetlands.
Some Tips For Keeping Your Yard Safe In Winters
Delaying snow removal till the next day merely makes your work more difficult. Keep in mind that snow might stay to the ground and freeze.
Shoveling can be done to remove the thin layer of ice from your yard. However, this strenuous effort might cause arm stiffness and back pain.
If shoveling sounds like too much work, invest in a nice snowblower. It can make snow removal much more efficient and less time-consuming but expensive. If you're going to use a snowblower, avoid directing it at any plants to prevent breaking or damaging them. 
Remember to be cautious when removing snow from your shrubs and plants. You can sweep upwards with a broom or your hands to dislodge the snow on your plants.
It's okay to provide winter protection to delicate perennials, trees, and shrubs. It will help protect plants from heavy snow damage by keeping the branches in place and preventing them from splaying out or breaking. It also provides extra insulation against the harsh, cold, and dry winter wind. 
Get ready for winter with the ONLY Pet Safe Ice Melt you can trust
Conclusion
After a heavy, wet snowfall, you should inspect the condition of your cherished plants, shrubs, and trees. Heavy snow and ice should be removed before it causes too much damage by bending and breaking branches and weighing down shrubs and plants.
You can also use reflector stakes to mark the edges of the driveway, roadway, and walkways before the ground freezes in the fall. But above all, a plant-friendly, salt-free ice melt will ensure that your plants are neither burned nor damaged in harsh winter months.
Get ready for winter with the ONLY Pet Safe Ice Melt you can trust
Other Ice Melt Products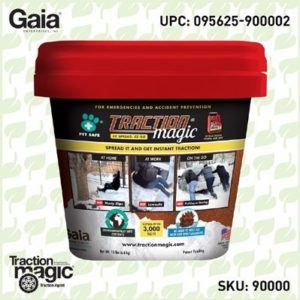 Traction Magic
Stay safe on slippery surfaces with a product that's 100% natural and safe for pets, people, and your property. Use Traction Magic on sidewalks, steps, or as instant traction for your car. Traction Magic provides instant traction on all icy surfaces.
Safe Thaw
Imagine an ice melt you can put down and never worry about. It won't harm animals or children, and it won't damage your property. That's Safe Thaw. Unlike anything else on the market, Safe Thaw can change how winter affects our planet.