How To Keep Your Driveway Pavers Safe This Winter In Minnesota
According to the updated National Oceanic and Atmospheric Administration (NOAA) released recently, Minnesota can expect more snow than usual in the coming winter. Since La Nina is well established and expected to persist through this winter, a wetter and cooler North and drier and warmer South is what we are going to experience.
But are you worried about how to keep your driveway safe in the snowy winter season?
Safe Ice Melt For Pets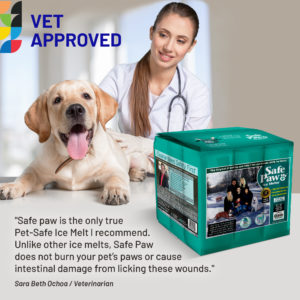 Safe Paw
The Original and the #1 Pet and Child Safe Ice Melt for over 20 years. Guaranteed environmentally safe – will not harm waterways and sensitive wetlands.
In this article, we will discuss five tips to keep your driveway safe. We will also discuss how to choose the best ice melt for your driveway.
1- Avoid Using Rock Salt
The most popular way of clearing snow from the pavements is to sprinkle salt. Salt is basically sodium chloride. It does the job of making your driveways and pavements ice-free, but they wreak significant damages to your concrete. Not only does it corrode it, but it also leaves stains and streaks on the surface.
2- Use A Good Ice Melt For The Driveway
You'll find many ice melt products that claim to be safe for pets and safe for concrete, brick, etc. However, in reality, they contain salt and chloride. Contrary to the claims on the packaging of most rock salts (including those marketed as pet safe), rock salt is not safe for pets and not safe for concrete. Rock salt damages concrete over time. Most ice melt products contain chloride in one or the other form, like calcium chloride, sodium chloride, and magnesium chloride. And none of these are suitable for your pets and property.
Choose a good ice melt for a driveway that does not contain any form of salt (including rock salt). If you're a new homeowner, you should be extra cautious while choosing an ice melt for new concrete as it is vulnerable and prone to damages.
3- Prevent Ice & Snow From Sticking
Now you may wonder how to do that. There are a few ice melts that can prevent ice from sticking to surfaces for up to three days of using it. Such ice melts act as a preventive measure and makes shoveling away snow an easy task.
---
Weather Forcast
---
4- Use An Efficient Ice Melt
Do you have compacted snow in certain areas of your open space?
Compacted snow does not melt easily. You may have to use large quantities of ice melt on such areas. However, if your ice melt contains salt, such a large quantity of ice melt will damage your concrete. Therefore, use an efficient ice melt, and even a less amount of the product can do the job.
5- Fill The Cracks
Find cracks and crevices on the surface and patch them up. Do this before the first snow hits the floor. A flexible sealant will prevent any moisture from getting into the concrete area. Therefore it prevents the weakening of the driveway even when the temperature reaches the freezing point.
---
Other Products
Traction Magic – Walk On Ice
The handy disposable canister can be taken everywhere with the same 100% naturally occurring minerals that provide instant traction on ice. Use it on sidewalks, steps, or as an instant traction agent for your car.
Safe Thaw
Imagine an ice melt you can put down and never worry about. It won't harm animals or children, and it won't damage your property. That's Safe Thaw. Unlike anything else on the market, Safe Thaw can change how winter affects our planet.
---