How To Buy An Ice Melt Product?
If your driveway or pathways are covered with ice, you must act fast to remove it for your safety. It's much preferable to use a deicer as a preventative measure after clearing sidewalks. Which product, though, should you purchase?
Although all deicers function on the same concept of lowering the freezing point of water, not all "salts" are created equal. Hence, it is vital to check the ice melt ingredients. You can also gather more information through online reviews and videos to ensure your ice melt is safe for pets and concrete.
Determining which deicer is "better" needs more consideration than merely getting a product that melts ice the fastest. Here are some of the things to consider before buying an ice melt.
Environmentally and Pet Friendly Ice Melt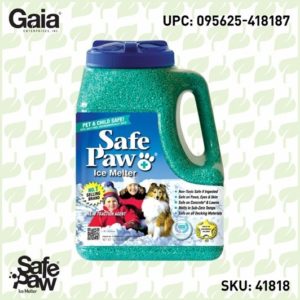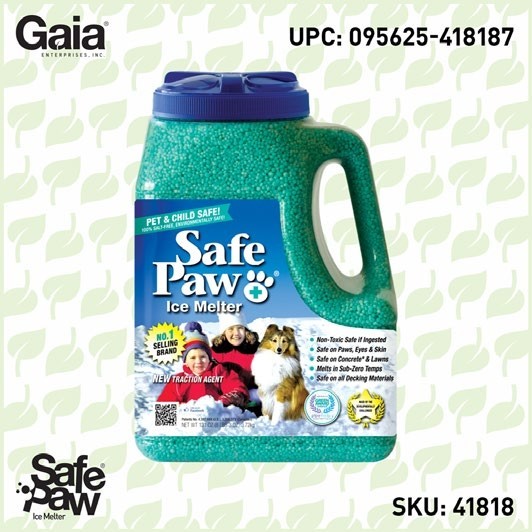 Safe Paw
The Original and the #1 Pet and Child Safe Ice Melt for over 20 years. Guaranteed environmentally safe – will not harm waterways and sensitive wetlands.
Ice Melt Ingredients
Sodium chloride is the cheapest rock salt, but it's also the most harmful to your pets, plants, and the environment. It can damage plants and trees, corrode automobiles, break concrete and asphalt, and harm wildlife. 
When sprayed at rates high enough to melt ice, potassium chloride, found in fertilizers, can damage or even kill plants. Calcium chloride works well in frigid conditions, but it isn't ideal. It is safer than sodium chloride, but it isn't perfect. Because it isn't as abrasive as sodium chloride, it is promoted as "pet safe," yet it can still irritate pets' paws.
Make sure you understand the primary ingredients in ice melt before you buy it. You'll be able to see if the ice melt contains any potentially dangerous salts by going through it. The natural, salt-free ice melt will mention that it is non-toxic and free from chlorides. The following information is contained in the Safe Paw jar: 
If consumed, it is non-toxic and harmless. It's safe for paws, eyes, concrete, lawns, and skin. It is safe to be used on all decking materials.
Get ready for winter with the ONLY Pet Safe Ice Melt you can trust
Seek Information
Watch videos and read online testimonials and reviews. The natural salt-free ice melt Safe Paw received the most favorable responses. According to one research, salt-free natural ice melt is beneficial for the environment and animals. Unlike most ice melters that promise to be safe for dogs and concrete, brick, and other porous surfaces, Safe Paw is safe for all. You can also seek more information or a demo from the brand representatives.
Unlike most ice melters that claim to be safe for dogs and concrete, brick, and other hard surfaces, this all-natural product is safe for all of these, according to another customer. You can also examine the safety regulations or the seal of approval on the product packaging or its online profile.
It is salt-free and safe for both children and dogs. It has won several prestigious accolades for its safety for humans, pets, and the environment. 
Conclusion
Not every product on the market is appropriate for you and your concrete, as some manufacturers sell snowmelt containing chemicals or salts. Therefore, before you get ice melt for your premises, look at the ice melt ingredients and make a responsible choice. After all, we care for the safety and happiness of our family, pets, visitors, neighbors, and Mother Earth.
Get ready for winter with the ONLY Pet Safe Ice Melt you can trust
Other Ice Melt Products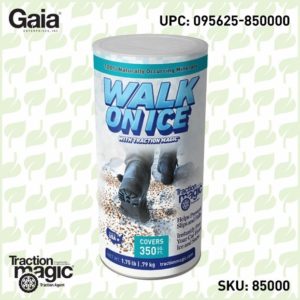 Walk On Ice
Walk On Ice safely in Winter, with the latest addition to the Traction Magic collection. The handy disposable canister can be taken everywhere with the same 100% naturally occurring minerals that provide instant traction on ice or snow.
Safe Thaw
Imagine an ice melt you can put down and never worry about. It won't harm animals or children, and it won't damage your property. That's Safe Thaw. Unlike anything else on the market, Safe Thaw can change how winter affects our planet.