Your Best Guide For Commercial Snow Removal
Removing snow from driveway, parking lot and sidewalks is one of the biggest concerns for businesses in winter. Apart from shoveling and using rock salt, ice melt is another popular way of getting rid of the snow.
There could be several options you may already be evaluating this winter. In this article, we will discuss the best ways to get rid of snow from your business.
Rock salt and ice melt are common solutions to snow problems in winters. They're also useful as a partner to a snowblower, treating places that the machine can't reach and dissolving any ice the equipment leaves behind.
Chemical-Based Ice Melt
Sodium chloride, calcium chloride, magnesium chloride, and AMC are present in most ice melt. For example, industrial blue premium ice melt contain calcium chloride ice melt industrual pallets. As the three chloride salts are the main constituents of this blend, hence it cannot be free from their side effects. The problem with magnesium chloride and sodium chloride ice melt products is that they can corrode the metals. The chloride salt can be toxic to your machinery, railings, door frames, and vehicles. They can harm dogs, children, wildlife, and even adults.
Safe Thaw Industrial Strength Ice Melter
The Safe Thaw Industrial Strength Ice Melter from Safe Paw will keep your employees, visitors, and guests safe throughout the winter season. Its 43 lbs bag will last for a long time because 1 pound covers 100 square feet.
The liquid released by the Safe Thaw crystal penetrates the molecular structure of ice and snow, preventing water molecules from rebuilding into ice crystals. The tried-and-true traction agent is safe to use among leaves, grass, and other plants. Its non-corrosive formula works well on concrete, lawns, decking material, asphalt, and pavers without discoloring.
Unlike ice melt like industrial blue premium ice melt, Safe Thaw is safe for construction sites does not cause any rusting of metals, machinery, and vehicles. It melts ice in even the coldest temperatures, ensuring safe walks for your employees and guests.
Get ready for winter with the ONLY Salt Free Ice Melt you can trust
Other Tools
Another popular way to get rid of snow is using tools like snow blowers. It is suitable for removing snow from pathways, driveways, parking lots, etc. The most significant advantage is that it blows the snow on the side of the cleared path without damaging the surface. The snow pile melts later with the help of a proper deicing agent.
A snow blower is perfect for areas with limited storage. You can either remove it yourself or hire professionals to do so. However, in either case, do keep an environment-friendly ice melt such as Safe Thaw with you for post snow removal.
Conclusion
Choose an ice melt depending on several considerations, including the average outdoor temperature and whether it will come into contact with plants, animals, or children. By choosing an ice melt that will not only remove ice but will safeguard your surroundings, you are fulfilling your duty of a responsible business enterprise.
Other Ice Melt Products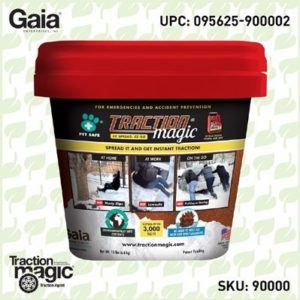 Traction Magic
Stay safe on slippery surfaces with a product that's 100% natural and safe for pets, people, and your property. Use Traction Magic on sidewalks, steps, or as instant traction for your car. Traction Magic provides instant traction on all icy surfaces.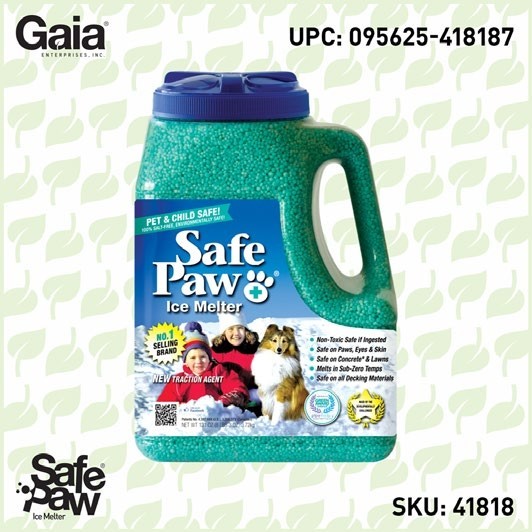 Safe Paw
Imagine an ice melt you can put down and never worry about. It won't harm animals or children, and it won't damage your property. That's Safe Paw. Unlike anything else on the market, Safe Paw can change how winter affects our planet.