Simple Ways To Keep Sidewalks Snow-Free
Regular snow and ice removal from driveways, porches, sidewalks, and paths surrounding your business are one of the more onerous winter routine duties of business owners. In addition to your driveway, you are responsible for clearing ice and snow from the sidewalk also.
Some cities and counties even have ordinances that impose fines on owners who fail to keep their sidewalks in a suitably clean and safe state. Furthermore, if a visitor or passerby is injured due to slipping and falling on your icy sidewalk or driveway, you may find yourself in legal jeopardy.
Every institution or service provider should have a snow and ice management plan in place, with people ready to put it into action in the event of a storm or to quickly remove ice and snow if bad weather occurs. The easiest and safest way to keep your sidewalks snow-free is by using the best ice melt for concrete and people.
Get ready for winter with the ONLY Salt Free Ice Melt you can trust
How To Keep Your Sidewalks Snow-free?
Prepare Yourself For Anything
Although some areas may only see snow and ice occasionally, ice melting programs need to be prepared to avoid difficulties.
Businesses in any region want sidewalks, steps, entryways, and parking lots to stay open and safe during inclement weather and to be swiftly de-iced and snow-free following a storm.
Ice melter materials can be used as anti-icing treatments ahead of time to prevent freezing rain or light snow from sticking to the pavement.
It could eliminate the need for mechanical removal of minor accumulations and make heavy snow and ice removal faster and easier. Excessive use of liquid anti-icers might cause slick conditions. But you need to pick your ice melt with caution, as salt-based ice melt can prove to be disastrous for your premises.
Quickly And Reliably Response
During and after a storm, winter maintenance plans need to be formed to provide clear and safe conditions for the initial car and pedestrian traffic. A sufficient supply of ice melting material should be readily available. You can order your safe ice melt in bulk from the home depot ice melt section or other stores online. 
Selecting The Best Ice Melter: Several factors should be kept in mind when choosing an ice melter, but two are particularly important:
Cold Temperature Performance: Will the deicer work in the coldest conditions you might encounter?
Ice Melting Speed: How quickly will the deicer melt the ice so that pedestrians are safe in ice conditions?
Even though we have a wide range of ice melt to choose from, not all are safe for your concrete. The salt-based ice melt will damage your concrete and will harm your machinery and vehicles.
The best ice melt for concrete is a salt-free natural ice melt. It does not have any corrosive chemicals and is nonconductive. It is entirely safe for pets and the environment and comes with a long shelf life. It can work in low temperatures and gives an instant and long-lasting effect.
Conclusion
Any ice melting program should aim to reduce slip-and-fall dangers while using the least amount of material possible.
All salt-based ice melting materials have the potential to harm the natural environment, lawns and shrubs, metal architectural features, and interior flooring if used excessively. Hence use a salt-free ice melt made up of natural ingredients.
Other Ice Melt Products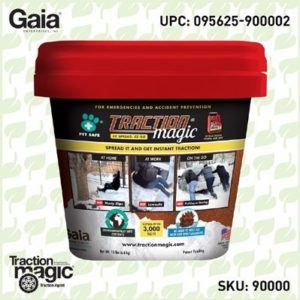 Traction Magic
Stay safe on slippery surfaces with a product that's 100% natural and safe for pets, people, and your property. Use Traction Magic on sidewalks, steps, or as instant traction for your car. Traction Magic provides instant traction on all icy surfaces.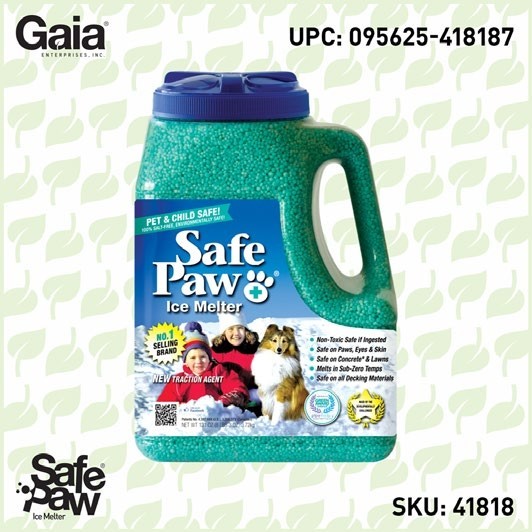 Safe Paw
Imagine an ice melt you can put down and never worry about. It won't harm animals or children, and it won't damage your property. That's Safe Paw. Unlike anything else on the market, Safe Paw can change how winter affects our planet.