Ice Melt Price Comparison
Dealing with snow and ice is unavoidable as winter approaches. Using an ice melt to control slippery situations on driveways and sidewalks can help maintain a regular footfall for your business. Don't put off buying ice melt until the snow starts to fall and the temperature dips below freezing. Here is your guide to get the best ice melt for your premises.
| | | | | |
| --- | --- | --- | --- | --- |
| Ice Melt | Price per 50 lb | Concrete damage | Pros | Cons |
| Calcium Chloride | $10 to $19 | Moderate | Fast acting | Can cause corrosion to machines and damage to environment |
| Calcium Magnesium Acetate | Starts from $20 | Moderate | Environment Friendly | Cannot be used in driveways and parking area as it will damage the concrete |
| Magnesium Chloride | $10-$19 | High | Safe for pets | It can be used for households with pets, but is not a suitable choice for businesses. |
| Potassium Chloride | Starts from $20 | Moderate | Safe for pets | The corrosive chloride can cause rusting of machinery and vehicles. It is also toxic to concrete. |
| Rock salt | $10 | Moderate to high | Inexpensive | Highly corrosive and can damage concrete, asphalt, bricks, metals, machinery, vehicles, and railings. |
| Urea | $10 | Minimal | Safe option for pet owners and ideal for gardens | It is not a deicer hence does not help in snow removal. If you opt for it, do make sure that you have enough time to shovel snow from your entrances after every snowfall. |
| Crystalline amide core with glycol | Starts from $50 | Negligible | Safest option for industries, business, and commercial sites | The safest option for industries, business, and commercial sitesIt is non-corrosive and non-conductive. It poses no threat to your concrete, asphalt, parking, vehicles, and machinery. Fast action and long residue effect make it an ideal choice. Equally safe for the environment and pets around you. |
How To Choose The Best Ice Melt?
The chloride present in ice melt raises the conductivity of water, hastening corrosion, and can also cause short-circuiting in your premises. This salt is so powerful that it can tear apart concrete that hasn't been cured or sealed, as well as structural rods and steel. Furthermore, when it comes to building interiors, chlorides can make your floors look dingy or dusty, necessitating a full-fledged refit.
You'll notice foliage loss because salt dehydrates plants; it also inhibits roots and destroys stems, blooms, leaves, and seeds. Damage to infrastructures, such as bridges, roads, parking lots, walkways, entrances, and flooring, can also be seen.
On the other hand, chloride-free ice melt is free from toxins and will not cause any damage to concrete, parking areas, floorings, and surroundings. The amide core-glycol combination removes snow, provides traction, and is non-corrosive and non-conductive. If you plan to buy no salt ice melt in bulk, amide core-glycol is the most suitable option. It has a long shelf life and can be stored easily in airtight containers. It is not as cheap as destructive rock salt but will go a long way in safeguarding your premises and metal.
Conclusion
While there are many factors to consider when selecting an ice melt, it all comes down to obtaining a high-quality product that works as effectively as possible. Simply said, it ought to execute the job properly while not breaking the bank. Before winter snow strikes your premises, ensure the safety of your assets, employees, and guests by getting the best ice melt.
Get ready for winter with the ONLY Salt Free Ice Melt you can trust
Other Ice Melt Products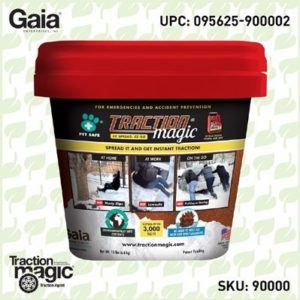 Traction Magic
Stay safe on slippery surfaces with a product that's 100% natural and safe for pets, people, and your property. Use Traction Magic on sidewalks, steps, or as instant traction for your car. Traction Magic provides instant traction on all icy surfaces.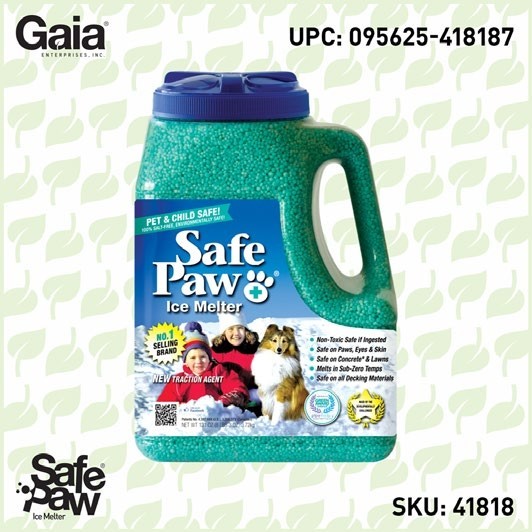 Safe Paw
Imagine an ice melt you can put down and never worry about. It won't harm animals or children, and it won't damage your property. That's Safe Paw. Unlike anything else on the market, Safe Paw can change how winter affects our planet.