How To Safely Clear Snow From Your Roof
Clearing snow from the roof usually a summer clean-up and is more common than ever these days, putting people in danger of discomfort, hypothermia, or frostbite, as well as falling, becoming trapped under the snow, or even being electrocuted. Here are some pointers to keep you as safe as possible.
Allowing Snow To Accumulate Is Not A Good Idea.
Clear your roof before it becomes strained under the weight of snow. The less snow there is to remove, the less effort you'll have to put in. Plus, it will take less time this way, and there will be fewer accidents. Preventing mishaps by clearing your roof regularly is a good idea.
Gaia Enterprises Inc. delivers 100% pet-safe and environmentally friendly winter products. Safe Paw, our flagship product, is the #1 selling pet-safe ice melt that does not harm pets, safe if ingested, and safe on all types of concrete.
If You Can, Work From The Ground.
Working from the ground as much as possible is recommended to avoid falls. The Safe Paw ice melter for roofs contains non-toxic ingredients that work efficiently and melt ice faster than other methods. Use a safe paw, and don't work up too much of a sweat.
Roof Safe Ice Melt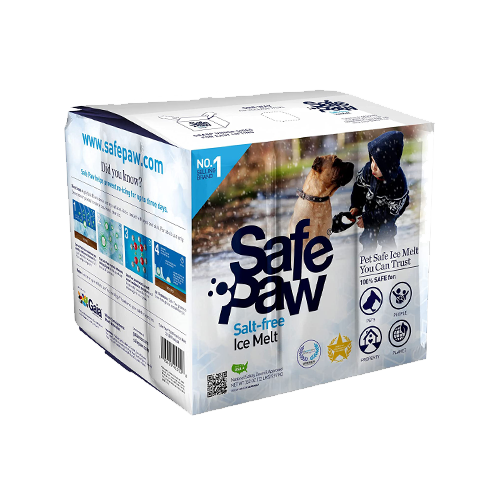 Safe Paw
The Original and the #1 Pet and Child Safe Ice Melt for over 20 years. Guaranteed environmentally safe – will not harm waterways and sensitive wetlands.
Choose The Appropriate Time.
Check the weather forecast before going out to clear the snow from your roof. Avoid extreme cold and strong winds, which can cause frostbite, and be aware of warm spells, turning snow into ice, resulting in falls or even cuts.
Select The Most Appropriate Tools For Roof
Don't underestimate the impact that the right tool can have! Metal shovels and scrapers should be avoided because they can damage your roof covering as well as cause serious injury. Instead, use accessories like the telescopic snow rake and ice melter for roofs, specifically designed for cleaning roofs. It's both safer and faster, for example, safe paw ice melt.
Get ready for winter with the ONLY Pet Safe Ice Melt you can trust
Working In A Group Is Risk-Free.
It's much better to remove snow from your roof with others than it is to do it alone. It's not only faster, but it's also a lot safer. For example, if you need to climb to the roof, your partner can hold the ladder in place or rush to your aid if there is an emergency.
Before You Begin, Stretch.
Before clearing snow, stretch as you would before any other physical activity. It's also a good idea to go for a short walk or do a quick warm-up to get your blood pumping and heart rate up gradually. You'll be better prepared for physical activity this way, and your back and muscles will thank you later.
Get ready for winter with the ONLY Pet Safe Ice Melt you can trust
Create A Safety Buffer.
Before you begin, determine where the snow will fall and create a perimeter around it, ensuring that other people are kept out. You can use the high-visibility rope to define the perimeter.
Wrapping Up
fastened around your waist and connected to a strong anchor point. You do not need to exert yourself rather safe paw ice melter for quick melting of snow. Safe Paw is made to be used most efficiently, even during summer clean-up, so you can melt snow off the roof without damaging it. A safe paw will keep your pet safe while also being environmentally friendly.
Get ready for winter with the ONLY Pet Safe Ice Melt you can trust
Other Ice Melt Products
Safe Thaw
Imagine an ice melt you can put down and never worry about. It won't harm pets, kids and your property. That's Safe Thaw. Unlike anything else on the market, Safe Thaw can change how winter affects our planet.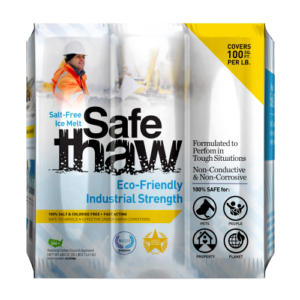 Traction Magic
Stay safe on slippery surfaces with a product that's 100% natural and safe for pets, people, and your property. Use Traction Magic on sidewalks, steps, or as instant traction for your car.