How Safe Paw Improves Your Family Emotions And Energy
Did you know that the main ingredients in traditional ice melt are salt and salt blends? You may be aware that these types of ice melt are effective at melting ice, but their side effects are not a healthy, long-term solution. We knew there has to be a technique to melt ice without inflicting environmental damage. It is where the science enters the picture.
Gaia enterprises were able to produce ice melt solutions that are more effective, easy to use, and safe for people, pets, property, and the environment by eliminating salt and salt blends and crafting a replacement.
Eco-Friendly Ice Melt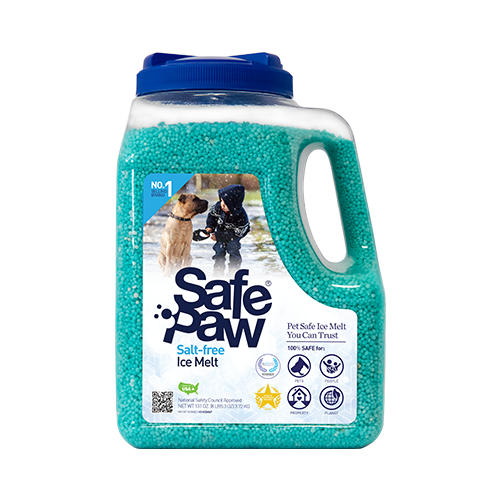 Safe Paw
The Original and the #1 Pet and Child Safe Ice Melt for over 20 years. Guaranteed environmentally safe – will not harm waterways and sensitive wetlands.
How Was Safe Paw Developed?
Safe Paw's ingredients were developed following months of careful thought, testing, and experimenting. The crystals in Safe Paw produce a liquid upon application, speeding up the melting process. The ice and snow's molecular structure is weakened, preventing water molecules from rebuilding into ice crystals. Safe Paw shows its effect in ten minutes and changes the snow-covered surface into a safe walking area. It can destabilize your snow and ice-covered surface back into the water.
Gaia Enterprises Inc. delivers 100% pet-safe and environmentally friendly winter products. Safe Paw, our flagship product, is the #1 selling pet-safe ice melt that does not harm pets, safe if ingested, and safe on all types of concrete.
How Salt Harms Your Pets
As proud pet parents, it becomes our responsibility to keep our pets safe from any hazardous chemicals. The salt-based chemicals that we use to keep snow away from our premises are big trouble to our furry friends. An unwell family member is a cause of anxiety for the whole family. Hence, the well-being of our pets is also important for us.
Sodium chloride or potassium chloride is used to make rock salt and other salt-filled ice melting products. When exposed to ice and snow, both of these elements heat up and stay on the ice surface for long periods. For a variety of reasons, this poses a threat to pets and children. If they eat the salt, it will burn their skin, irritate their eyes, and cause complications such as gastritis, digestive troubles, and kidney damage. 
Get ready for winter with the ONLY Pet Safe Ice Melt you can trust
When pets step out, they are bound to expose their paws and bodies to the ice melt that has been spread on the driveway or stairs. Because of the high chloride concentration, regular exposure to ice melt might break their paws or cause abrasions.
Even accidentally consuming too much salt or sodium chloride can cause their salt levels to rise. Seizures and allergic reactions are possible side effects. If the ice melt contains calcium chloride, it may cause mouth ulcers as well as stomach distress. Chloride types of ice melt are a huge threat to pets and plants.
It is best to be cautious and check for sodium levels, chlorides, and other ingredients to ensure your pet's safety before buying the ice melt.
Protective Treatments
The best way to keep your pets free from injuries is to use an ice melt that is 100% safe for them. Safe Paw is the best pet-safe ice melt available in the market. It is free from any toxins. Even if your pets ingest it by mistake, it does not pose any threat. This natural product does not cause any burning of paws, itching, or skin irritation.
You may use Safe Paw before the snowstorm to prevent ice from accumulating in your driveway and other surfaces before it starts snowing. It will make shoveling easier and less time-consuming. If your driveway has already produced black ice, scratch it a little before applying the chemical to make it work faster and better.
Get ready for winter with the ONLY Pet Safe Ice Melt you can trust
Conclusion
Safe Paw is the most effective alternative to traditional methods of melting ice and snow. By using it, you can help the environment while also keeping your children and pets safe.
Winters can be a stressful time not only for you but for your pets as well. By using Safe Paw, you can give a safe and healthy environment to your kids and pets. Pets without injuries will keep you free from anxiety and will improve your family's emotions and energy.
Other Ice Melt Products
Safe Thaw
Imagine an ice melt you can put down and never worry about. It won't harm pets, kids and your property. That's Safe Thaw. Unlike anything else on the market, Safe Thaw can change how winter affects our planet.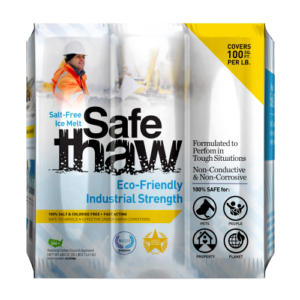 Traction Magic
Stay safe on slippery surfaces with a product that's 100% natural and safe for pets, people, and your property. Use Traction Magic on sidewalks, steps, or as instant traction for your car.