How Is Magnesium Chloride Destroying Your Facility?
When it comes to pet-safe ice melt bulk products, we often fail to understand the correct usage of each product. As a result, in our excitement to melt ice quickly, we overapply ice melt, thus causing our concrete and surroundings more harm than good. 
While deciding the type of bulk no salt ice melt, magnesium chloride is one of the names that pop in your mind. However, contrary to belief, magnesium chloride is not as safe as it appears and might slowly destroy your facility.
How Does This Affect Your Premises?
Magnesium Chloride pellets are one of the leading deicers and ice melt in the country. They are a better alternative to rock salt or sodium chloride but not entirely safe either. Although it is available in pellet and flake format, the use of magnesium chloride is still debatable. It has a melting point of up to 21°F, but anything lower than that will not suffice.
Harmful for vegetation and landscape
If you have a facility, you must have some amount of green patches and landscape around it, right? Now imagine the harsh winters falling and covering the ground and everything around it. When you apply deicers such as magnesium chloride, you expect it not to leave any residue or harm your landscape, right?
Although magnesium chloride has low intensity, the effects are as pressing as that of rock salt. It seeps into the soil and blocks the moisture level, thus affecting the growth of the plants eventually.
Unsafe for pets
If your facility has a guard dog or a pet, magnesium chloride is not a pet-safe ice melt bulk product. It can burn their paws and cause unwanted abrasions. It might cause a stomach infection, too, in case they ingest it accidentally. 
Although magnesium chloride is less toxic than other deicers; however, the intensity will remain the same for pets or dogs.
Harms concrete
Most of us end up over applying the formula, hoping that it will melt the ice faster. However, it is not valid. The more you use, the more chances you ruining your metal, concrete, asphalt, brick, wood, or limestone surroundings.
Magnesium Chloride melts ice quickly, but when it does, it becomes a slushy mixture that is slightly messy. These deposits seep inside the concrete and crack it. Overusing any chloride-based or salt-based ice melt will eventually harm it. However, it does affect the texture of steel and aluminum if exposed for a longer duration. You will notice rust stains around the structure, equipment, or piping caused by magnesium chloride + moisture. 
Get ready for winter with the ONLY Salt Free Ice Melt you can trust
Conclusion
Hence we advise you to use 100% bulk no salt ice melt that works even in sub-zero temperatures and causes no damage to concrete. Furthermore, it is safe for pets as it does not burn their paws, and we can spread it with our bare hands without worrying about it hurting us. 
Get ready for winter with the ONLY Salt Free Ice Melt you can trust
With zero toxicity levels and reusability factor, Safe Thaw helps you to battle your winter woes successfully and does not harm the environment, concrete, or any decking material at all. 
Other Ice Melt Products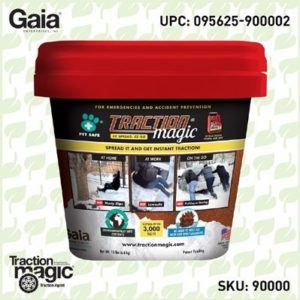 Traction Magic
Stay safe on slippery surfaces with a product that's 100% natural and safe for pets, people, and your property. Use Traction Magic on sidewalks, steps, or as instant traction for your car. Traction Magic provides instant traction on all icy surfaces.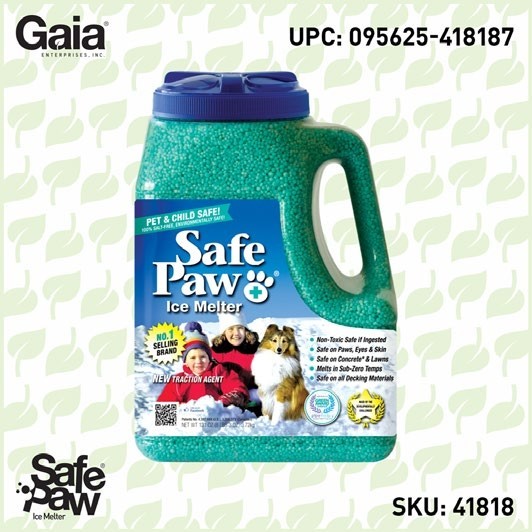 Safe Paw
Imagine an ice melt you can put down and never worry about. It won't harm animals or children, and it won't damage your property. That's Safe Paw. Unlike anything else on the market, Safe Paw can change how winter affects our planet.