Commercial Ice Melt – Top Brands Reviewed
Winters are beautiful but can be dangerous for you, your premises, and your pets. It's always better to be prepared before the onset of the winter season than panicking at the end moment. The best way to prevent winter woes like slip and fall is to get ready with your supply of industrial ice melt in bulk.
Here is a list of top industrial ice melt available in the market and their comparison.
Green Gobbler Calcium Chloride Snow & Ice Melt 
Green Gobbler ice melt comes in pallet form and has magnesium chloride as the main component in its blend. Since the main ingredient is magnesium chloride, there is a high possibility of the product eroding your concrete, sidewalk, pathway, wood, and even the flora around.
Although this ice melt works at temperatures as low as -10 degrees, it may turn solid if stored for a longer duration.
Safe Thaw
Unlike any other ice melt in the market, Safe Thaw is a chlorine-free and chemical-free ice melt. It is a patented dual-effect compound made of a modified crystalline amide core infused with unique glycol admixture and traction agents. Since it has natural crystals in its blend, this ice melt is non-corrosive and non-conductive. It does not cause any harm to your delicate machinery, and there is no danger of short circuits. It gives instant melting without the risk of causing damage to your property.  
Safe Thaw does not leave a trace on the concrete or the surroundings and is safe for pets, humans, and all types of concrete, metal, and wood.
Get ready for winter with the ONLY Salt Free Ice Melt you can trust
Snow Joe Calcium Chloride Ice Melt Industrial Use
Snow Joe is made of calcium magnesium acetate and comes in pallet form. It comes in a package of 25 pound or 10-pound packages and is a fast-acting icemelt. However, it leaves the residue behind and is not safe for pets and their paws. Calcium chloride ice melt for industrial use should be carefully spread around plants and pets.
Blue Heat Snow and Ice Melt
It has calcium chloride, sodium chloride, magnesium chloride, and ferric chloride, among other salts. Since this ice melt is blue in color people can easily see where the salt had been spread. The ice melt's bucket has a comfortable to hold handle. However, if consumed, it can be dangerous to pets. Moreover, it has various chloride combinations that may not be safe in the long run.
Conclusion
Choosing salt and chemical-free ice melt can help you get rid of the snow without the fear of harming your property.
As a business, you need to be careful about the ingredients in your ice melt and how it affects your premises and its surroundings. You need to take care of your customers and staff so that they don't slip on icy surfaces and their vehicles do not skid. Most business owners and homeowners who keep dogs as well prefer to purchase natural ice melt.
Other Ice Melt Products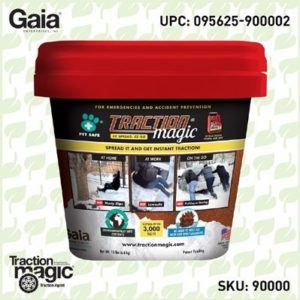 Traction Magic
Stay safe on slippery surfaces with a product that's 100% natural and safe for pets, people, and your property. Use Traction Magic on sidewalks, steps, or as instant traction for your car. Traction Magic provides instant traction on all icy surfaces.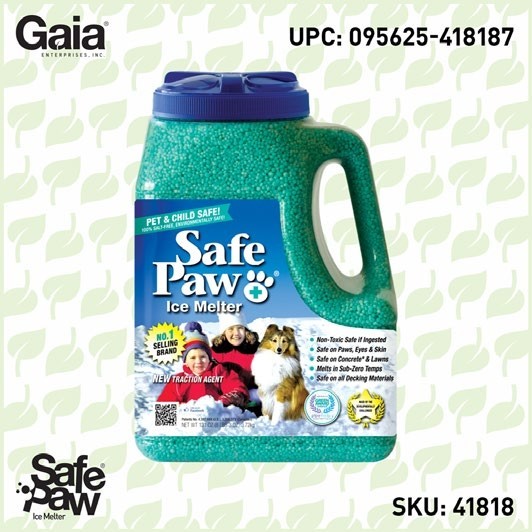 Safe Paw
Imagine an ice melt you can put down and never worry about. It won't harm animals or children, and it won't damage your property. That's Safe Paw. Unlike anything else on the market, Safe Paw can change how winter affects our planet.