Best Way To Remove Snow From A Flat Roof Top
One of the most popular styles of roofing is a flat roof. It works equally well for commercial and residential buildings. They are easier to build than other roof styles but need maintenance and upkeep if not done correctly.
Why Flat Roofs Are Gaining Popularity?
Flat roofs are popular in homes and businesses because they are energy-efficient, low-maintenance, and fashionable. They're less difficult to install than other types of roofing. However, when exposed to external elements such as changing weather, they are prone to cracks and leaks. Heavy snowfall and ice present additional challenges for your roofing that must be addressed quickly to avoid damage to your structure. You can keep your property safe this winter. With proper planning and maintenance by using a safe ice melter for the roof.
You may already be aware that ice melt damages concrete. The sad thing is that most of the ice melt out there has harsh chemicals in their blend and they can easily damage your roof as well. Therefore you must use a safe ice melt.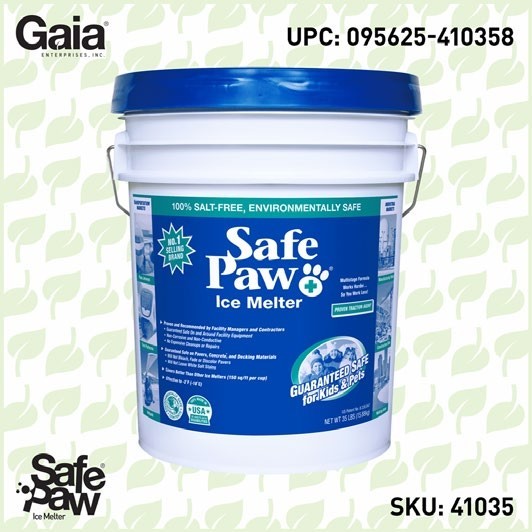 Safe Paw
The Original and the #1 Pet and Child Safe Ice Melt for over 20 years. Guaranteed environmentally safe – will not harm waterways and sensitive wetlands.
Here Are The Best Ways To Remove Snow From A Flat Rooftop.
The best part of having a flat roof is that it is easy to clear the snow. Unlike roofs with shingles that need special soft shovels to remove excess snow buildup, flat roofs use ice melt and regular shovels. Of course, you must remember to remove all the snow before using any ice melt.
Get ready for winter with the ONLY Pet Safe Ice Melt you can trust
It is important to note that ice melt damages the concrete. Therefore choose an ice melt that is non-toxic and chemical-free.
By reducing the freezing point of water, ice melts effectively melt snow and ice. But salt-based ice melts can be nearly as corrosive on flat rooftops as they are on concrete and asphalt pavements.
A chloride-free and eco-friendly ice melt like Safe Paw is a non-toxic and non-corrosive alternative to salt-based ice melt. It dissolves ice, relieves stress on a flat roof, and channels drainage.
If you check out the Safe Paw Ice Melter Reviews, you'll know that not only is it non-corrosive but also prevents the further formation of ice. While you can fill stockings with the safe ice melt and lay them on the snow and ice after a storm, spreading a layer of non-corrosive ice melt on roofs before a storm is a preventative approach.
Get ready for winter with the ONLY Pet Safe Ice Melt you can trust
How To Prevent Snow Damage To Your Flat Roof?
Inspections are conducted once a year
A certified roofer will be able to inspect your roofing membrane for damage from ice melt on roofs and other tears, as well as check its overall integrity and drainage outlets.
There are waterproofing membranes on the market that act as watertight sheets. If you've recently moved into a home, find out when the waterproof membrane was installed or replaced by the builder or seller.
Buildings with flat roofs typically do not have the same amount of attic space as those with sloped roofs. Building heat can warm up the roof in the absence of that space, causing standing snow to melt.
Conclusion
Even if you have taken care of your roofing in the past, it will require extra attention in winter to ensure that it protects your building. Maintaining the integrity of your flat roof takes time and effort throughout the year.
Get ready for winter with the ONLY Pet Safe Ice Melt you can trust
Other Ice Melt Products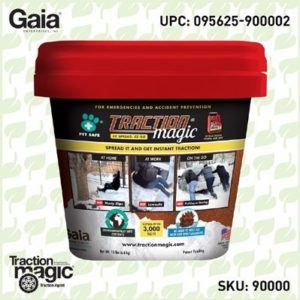 Traction Magic
Stay safe on slippery surfaces with a product that's 100% natural and safe for pets, people, and your property. Use Traction Magic on sidewalks, steps, or as instant traction for your car. Traction Magic provides instant traction on all icy surfaces.
Safe Thaw
Imagine an ice melt you can put down and never worry about. It won't harm animals or children, and it won't damage your property. That's Safe Thaw. Unlike anything else on the market, Safe Thaw can change how winter affects our planet.