3 Reasons Why You Should NOT Use Snow Blowers
One of the biggest winter woes is the inconvenience caused to you, your employees, and your customers due to snow.
One of the most convenient ways to remove snow is to use ice melt on concrete. Shoveling is another convenient way of cleaning snow. Shoveling away the snow on driveways, sidewalks, and pavements may sound old school, but it is one of the most popular ways to protect your premises and the environment. However, shoveling can be tiring and dangerous for the heart because it increases heart rate and blood pressure.
Snowblower and Ice melt are good alternatives to shoveling. However, both have their pros and cons. Let us discuss each and see which one is the best way to keep your facility snow-free.
In this article, we will discuss three reasons why you should not use snow blowers.
Need Powerhouse
However, the biggest con of using an electric snow blower is that it can go a short distance without a power source. Gas snow blower, on the other hand, is very heavy equipment but perfect for longer driveways.
It blows the snow to the side of the pavement or premise and clears the path to walk. It cannot penetrate the thin ice surface underneath the snow.
Get ready for winter with the ONLY Salt Free Ice Melt you can trust
Needs Cleaning
After every use, it has to be cleaned, or else there are chances of it rusting. Snowblowers come in different sizes, are manual or automatic, and have different power capacities. It requires an effort to move it through thick layers of snow and is quite time-consuming.
Maintaining Machine Is An Extra Cost
However, maintaining machinery has its cons. It is heavy to carry everywhere and has a high operating cost. If you don't want to indulge in those hassles, you can spread ice melt on the affected areas, and you're good.
Use Ice Melt On Concrete
An alternative to snow blowers is using ice melt on a concrete driveway, sidewalks, and parking lots.
It's no secret that the majority of the ice melt brands in the market have salt or chloride in their blend. These chemical-based ice melt solutions may also corrode the driveways and pathways.
Therefore you must use calcium chloride-free ice melt solutions. Although they are rare to find, Safe Thaw is one such brand. Unlike other ice melt, these are composed of natural ingredients. 
It's non-toxic and biodegradable, and it's guaranteed to melt below -2°F.
Get ready for winter with the ONLY Salt Free Ice Melt you can trust
Conclusion
Another way to deal with snow without harming your pets and plants is by adding traction. A good traction agent adds friction to the surface immediately so that you can cross the slippery layer of ice without the fear of falling. Clean the snow frequently so that it does not pile up and turn icy later. It's easy to shovel away soft and fluffy snow. To spread the ice melt on concrete, use a good ice melt spreader.
Other Ice Melt Products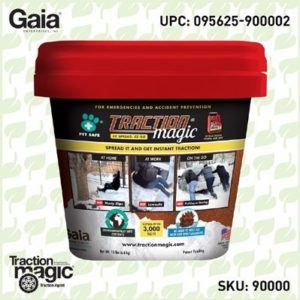 Traction Magic
Stay safe on slippery surfaces with a product that's 100% natural and safe for pets, people, and your property. Use Traction Magic on sidewalks, steps, or as instant traction for your car. Traction Magic provides instant traction on all icy surfaces.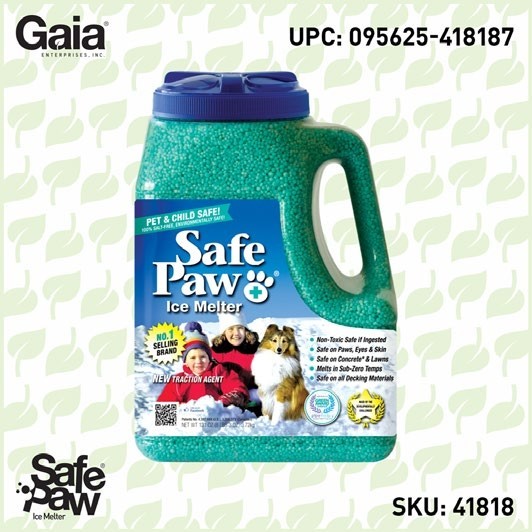 Safe Paw
Imagine an ice melt you can put down and never worry about. It won't harm animals or children, and it won't damage your property. That's Safe Paw. Unlike anything else on the market, Safe Paw can change how winter affects our planet.