3 Reasons Why Businesses Need Dog Safe Ice Melt
Whether you are a dog owner who wants to bring your pet to work or a company owner who wants to amend your pet policy, you must assure their safety. Interaction and movement are essential for pets. Dogs, in particular, require regular walks during the daytime. Hence, you need a dog-safe ice melt to keep pets safe in and around your premises during the winter months.
When you plan to buy your ice melt in bulk, do ensure that it is free from toxic chemicals that can harm the well-being of the pets around your business. By using a safe ice melt, you can win the confidence of your employees, visitors, and also the pet-loving local community. Here are three reasons why businesses need dog-safe ice melt.
Dog safe ice melt for increasing your productivity
Pets have been shown to decrease stress hormones and specific companies that allow pets have improved morale and productivity. Fortunately, many large and small businesses allow employees to bring their dogs to work every day, not only on certain days.
A growing number of workplaces are welcoming fluffy friends. A variety of pets are permitted to accompany employees to work, but dogs are the most prevalent. Hence, as a business owner who allows pets in their premises, it becomes your utmost responsibility to keep them safe.
A salt-free ice melt will help you keep pets safe from the toxic effects of chlorides. It will not burn their paws and has no damaging impact on their health even if accidentally eaten by them.
Safe ice melt in bulk for visitor's pets
An increasing number of company owners are opting to be pet-friendly, enabling customers to bring their canine companions into their stores and restaurants. As a result, pet-friendly establishments are also well-liked by customers.
Pets offer a great deal of comfort and unconditional love. Inviting them to your store or restaurant may be lucrative, and it can provide a fun touch to your ambiance that will keep consumers returning.
Allowing your visitors to bring their pets with them gives them an excuse to remain longer without worrying about their pets being left alone. But to keep your customers and their pets happy and safe, you need a chloride-free and natural ice melt. 
Getting a pet-friendly industrial ice melt in bulk will help you keep your premises, machinery, concrete, visitors, and furry friends safe. It will also ensure that your business is accessible throughout the winter months.
Get ready for winter with the ONLY Salt Free Ice Melt you can trust
Natural and dog safe ice melt for the community
As a responsible business, it becomes your duty to care for your community. For example, if you are located where there are pet parents, you need to be more careful while choosing your ice melt.
Chloride-based ice melt is highly dangerous for pets and the environment. The ice melt based on a unique patented dual-effect is chloride-free, salt-free, acetate-free, is the safest option for pets.
Modified carbonyl diamide crystals, specific glycols, and non-ionic surfactant accelerants are the main constituents of this natural and dog safe industrial ice melt. Moreover, these ice melt pellets will not injure their paws and are non-corrosive.
Conclusion
One obvious advantage of having a pet-friendly atmosphere is that it makes it easier for your customers to stop by. A pet-friendly establishment allows them to stop in during their regular walk with their pet. Therefore, you can gain their trust by using a pet-safe ice melt. 
Other Ice Melt Products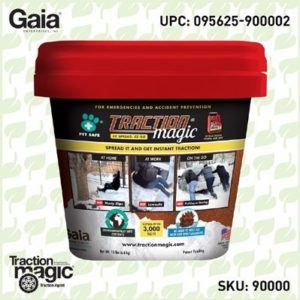 Traction Magic
Stay safe on slippery surfaces with a product that's 100% natural and safe for pets, people, and your property. Use Traction Magic on sidewalks, steps, or as instant traction for your car. Traction Magic provides instant traction on all icy surfaces.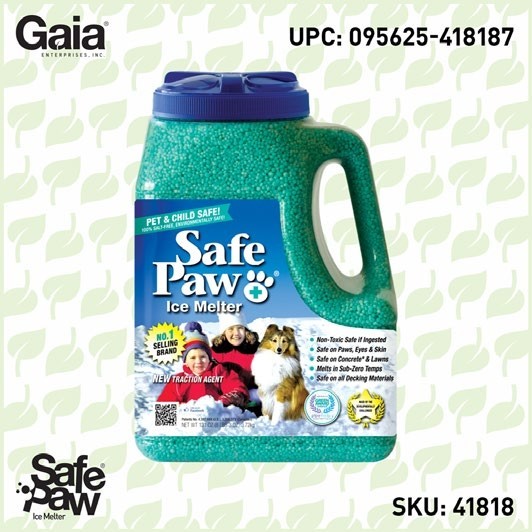 Safe Paw
Imagine an ice melt you can put down and never worry about. It won't harm animals or children, and it won't damage your property. That's Safe Paw. Unlike anything else on the market, Safe Paw can change how winter affects our planet.