Get Winter Ready: Best Ice Melt in 2022
So you've decided that a commercial ice melt is the best option for your business; what is the next step? When you start looking at your range of choices, the variety of products available may overwhelm you. If you keep some crucial points in mind, you can effortlessly choose the best ice melt for the winters of 2022. Opt for an ice melt safe for concrete, machinery and that is effective in melting snow. It should provide enough traction to avoid slip and fall accidents on your premises.
Here are facts and figures that will help you to choose the best ice melt.
Prestone Driveway Heat
Prestone Driveway Heat is a good deicing choice. It is made up of calcium chloride and gives an exothermic reaction with moisture. It is good for freezing conditions. Furthermore, if you're aiming to cover a vast area, the grain size works well in hand-crank seeders.
However, the exothermic reaction produces excess heat that causes skin burns in animals and humans. Hence, it is not a pet-safe ice melt. Finally, because the product is fine-grained and white, it is difficult to see, and you tend to over-apply.
Safe Thaw Ice Melt
Safe Thaw Ice Melt has taken steps to reduce the risks posed to animals, plants, concrete, and metals. It has a crystalline amide core combined with a modified glycol mixture and traction agents that is 100% safe to use around pets. Another aspect of Safe Thaw is its coarse, green-colored grains, which provide improved visibility and traction. It is non-corrosive and non conducive, hence safe to use on your driveway, near your machinery and vehicles. It is an eco-friendly, pet-safe ice melt that is free from salt and chlorides.
Get ready for winter with the ONLY Salt Free Ice Melt you can trust
Green Gobbler Pet Safe Ice Melt
The active component Magnesium chloride helps to avoid refreezing of ice. Although magnesium chloride is less abrasive than calcium chloride, its exothermic reaction is less effective. As a result, you need more of this product to do the same work. The risk of concrete damage increases with this chemical.
Natural Rapport Pet-Friendly Ice Melt
Calcium chloride and magnesium chloride are among the ingredients of Natural Rapport Pet-Friendly Ice Melt. This combination helps to keep the price low while retaining a lot of the calcium chloride's action. As a result, the blended formula is less effective in extreme conditions. 
Green Gobbler 96% Pure Calcium Chloride
It works well in conditions when rapid melting is required. The exothermic heat-producing reaction lasts a long time and uses less product than other recipes.
Green Gobbler is pricey and has serious environmental concerns. In some cases, overspreading can result in lawn damage and concrete corrosion. Furthermore, the extreme heat created might irritate or even burn the skin.
DART Keep It Green
It has a combination of sodium chloride, urea, calcium magnesium acetate, and a slow-release fertilizer. Rock salt acts quickly and adds a gripping texture to slick surfaces.
It should not be used on driveways that are less than three years old. Rock salt also poses health dangers to animals, including skin irritation, thirst, vomiting, and is poisonous to plants.
Conclusion
At any commercial facility, ice melt is a vital aspect of winter safety. Begin by purchasing a reliable brand from a trusted source. As a responsible business enterprise, it is your prime responsibility to keep your employees and visitors safe while keeping the welfare of your community and environment in mind.
Other Ice Melt Products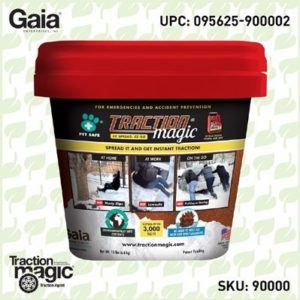 Traction Magic
Stay safe on slippery surfaces with a product that's 100% natural and safe for pets, people, and your property. Use Traction Magic on sidewalks, steps, or as instant traction for your car. Traction Magic provides instant traction on all icy surfaces.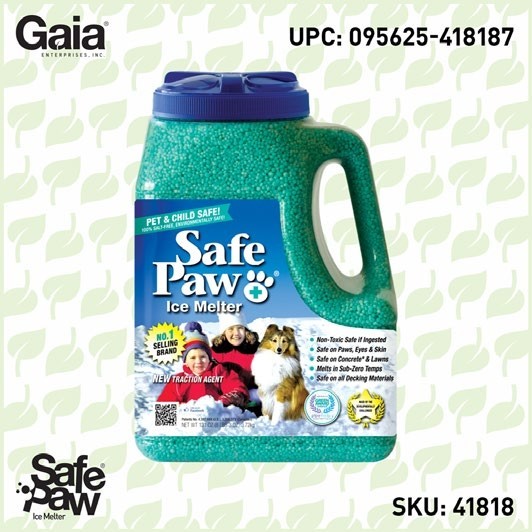 Safe Paw
Imagine an ice melt you can put down and never worry about. It won't harm animals or children, and it won't damage your property. That's Safe Paw. Unlike anything else on the market, Safe Paw can change how winter affects our planet.